Special Events ~ Dates for Your Diary...
Posters designed and produced by Keith Hopkins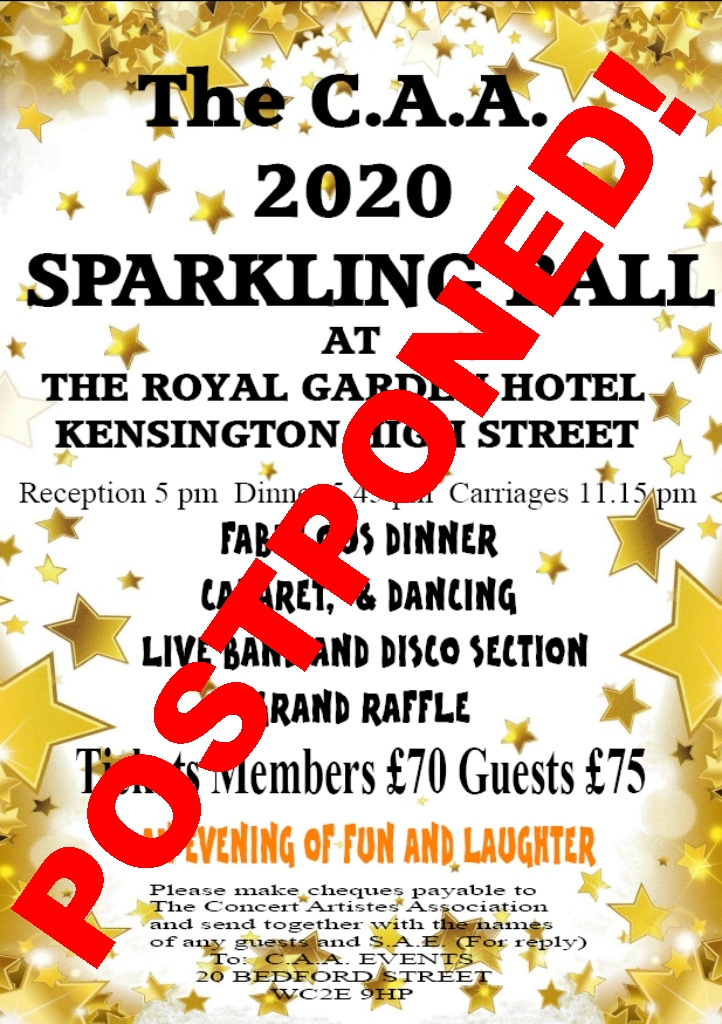 Dear Members
Regrettably the Committee have voted to POSTPONE the Ball that should be taking place on the 22nd of March  because of the coronavirus outbreak scare. We are all disappointed because it is the highlight of our year & so  many of you look forward to a wonderful night out.
We felt we have a " duty of care" to the  members, especially those who have underlying health problems. Government directives are changing daily and it is sensible for us to POSTPONE.
The Cabaret artistes, Band & Star guests are all on hold! Even our lovely programme is ready to go!
Those of you who have received your tickets, please hold on to them. I have the remainder & will hold on to them.
As soon as the hotel sends another couple of dates to choose from I will contact you. Until then keep safe & keep washing your hands!!!
The Club is still open at the moment but we will wait for any more instructions from the Government!
Keep Smiling!!!
Best Wishes from your Chairman, Kay,
On behalf of the CAA. Committee
ANNUAL GENERAL MEETING
POSTPONED
Dear Members,

In these uncertain times worldwide we have a duty of care to you all so we are postponing the AGM until further Notice.

The present Committee will continue to serve and keep you up to date with club matters (with updates on the website).

These are unprecedented times. Keep positive & keep safe!

If you are in need of anything please phone myself, Malcolm Knight, Barbara Daniels (Benevolent Fund) or any of the Committee. We are all here to help each other!!

Keep in touch over the phone. Do not feel lonely!

We are here for you!

The Club is open at the present time, until we have to close, which may be next week! So phone the office if you require other phone numbers or emails!!

Take care. Keep Smiling!!!

Love to you all Kay Carman, Chairman on behalf of the Committee.
3.15pm: Club Opens
4pm: AGM
5.45pm (approx): Bar Opens
6.15pm – 7.45pm: Food Available as Monday Night Menu.
8pm: Cabaret followed by Raffle and Committee Election Results.
10.30pm: Club Closes
THE LOOK OF LOVE SHOW
POSTPONED to late autumn
Booking slips are available in your newsletter or send covering note and cheques payable to CONCERT ARTISTES ASSOCIATION.
Please send to CAA EVENTS, 20 Bedford Street, London, WC2E 9HP and include a S.A.E. for return of tickets.
The Club for Acts & Actors
Patrons ~ Barry Cryer OBE ~ Dame Judi Dench
Total Page Visits: 7154 - Today Page Visits: 4