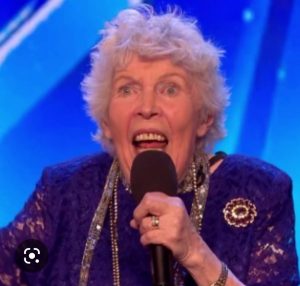 Much loved CAA Member Audrey Leybourne passed away on 1st December 2022 aged 95. She had been a member of the club since 1991 and was a regular attendee. Audrey was always full of fun and good humour and a great supporter of the Monday Night Shows.
She was born in Cardiff on 19th February 1927. Growing up in 1930s Cardiff she attended the Welsh National College of Music and Drama. It was here she was spotted by Donald Wolfit who offered her a scholarship to tour with his company as an acting A.S.M. In 1953 she rejoined Wolfit's company for a production of Henry 1V part one at Hammersmith.
Audrey moved to London in the 1960s and in 1967 appeared as Old Sally alongside Barry Humphries as Fagin in a revival of Oliver. She played countless diverse roles on tour as an actor, singer and dancer covering the whole country. Her notable stage credits, which underlines her amazing versatility, include the first stage version of Winnie The Pooh and an acclaimed production of the Amazons at Nottingham Playhouse.
She appeared in The Beggar's Opera and Black Comedy in Ipswich. Then received rave reviews for appearances in Uncle Vanya and Come Blow Your Horn. She also toured in Noel Coward's Bitter Sweet with June Bronhill. In 1979 she appeared in a production at the Adelphi with Tony Britton as Higgins.
Other credits are as a dancer in Richard Harris' comedy Stepping Out; Kath in Joe Orton's Entertaining Mr. Sloane; and Mrs Pugh in the musical Annie which toured abroad and featured Su Pollard who became a personal friend of Audrey.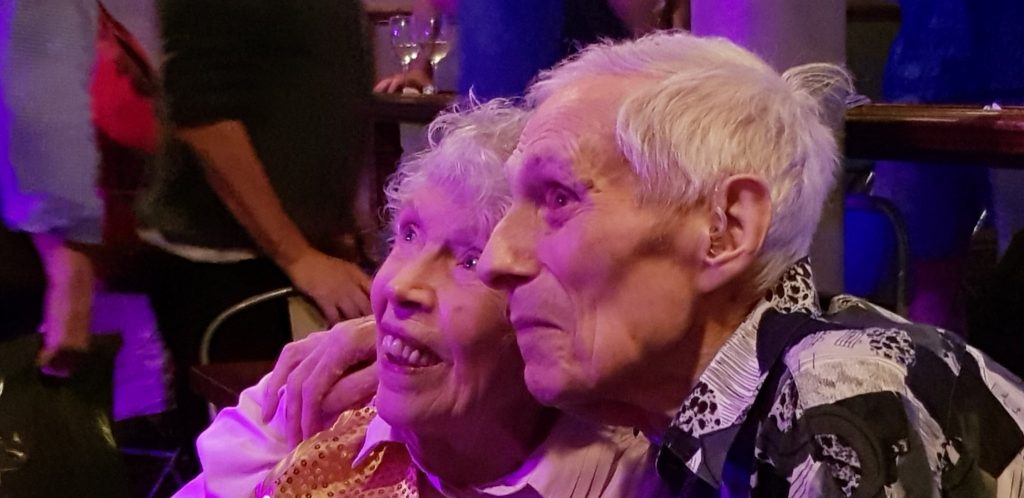 Audrey appeared numerous times on TV and films. Her notable credits include; The Wednesday Play (1964), Churchill's People (1974), The Old Curiosity Shop (1979), The Brack Report (1982), On The Line (1982), Screenplay (1986), Chaplin (1992), County Kilburn (2000), Doctors (2010), Bone China (2013), Stella (2014), Grandma's Big Schlep (2015) and Carters Get Rich (2017)
She was a member of Les Dawson's famous dance Troupe The Roly Polys in the 1980s. However it was an appearance on Britain's Got Talent at the age of 90 that brought her overnight national fame. She sang 'I Wanna be Loved By You.' Amanda Holden asked her if she had ever been married. Audrey replied "No, but I have been in love many, many times – 22 Gentlemen!"
She made her panto debut at the age of 90 playing Potty T Potts in Beauty and the Beast and continued working into her 90s doing commercials and the occasional stage role.
Audrey was summed up by her vicar Rev. Simon Grigg. "She was a remarkable person and a real trouper of an actress. A much loved member of St. Pauls. She has a last message to you all. She said to me shortly before she died that if I pop off, tell everyone I don't regret a thing. I've had a wonderful life."
by Chris Hare
Total Page Visits: 6244 - Today Page Visits: 5