CAA young members Shannon Rewcroft and Jordan Langford are two creatives from Scarborough doing all they can to get their show, Build a Rocket by Christopher York to the Edinburgh Fringe Festival this August.
They have been offered a week's run at Just the Tonic, a venue right in the heart of Edinburgh. I've seen the show at Wimbledon Theatre and it is a wonderful production with Shannon delivering a superb solo performance. A real tour de force! Shannon and Jordan are passionate about this production but here's the snag,
Taking a show to Edinburgh is expensive and for young artists it becomes almost impossible financially without back up. So being determined not to let a little thing like money stand in their way, they are asking for our help.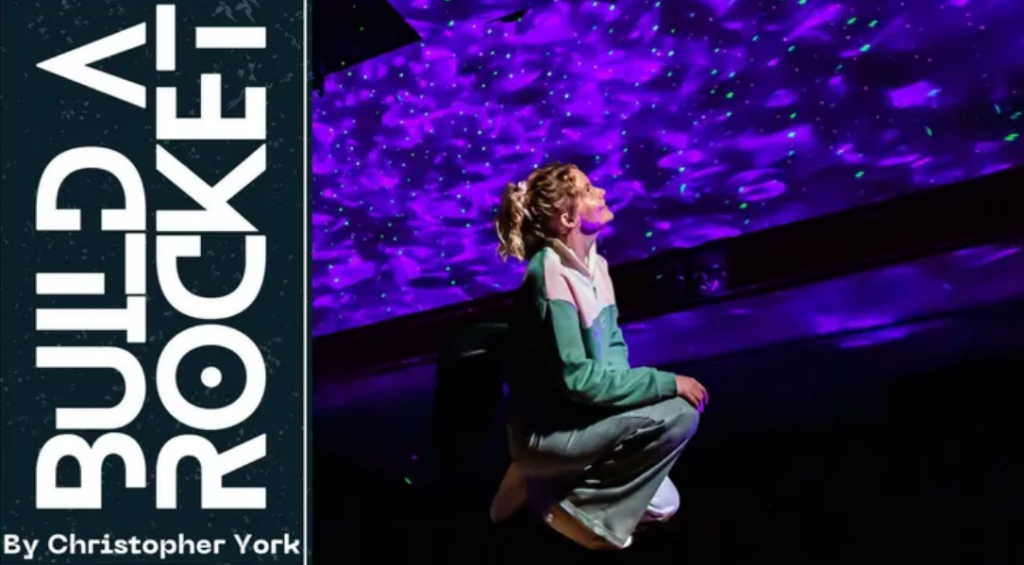 Why go to the fringe? They first worked on the piece in 2022 for director Jordan Langford's MA in Directing at Rose Bruford College. They fell in love with it and feel it is a truly special piece of writing. Having a fully-fledged one-woman show ready to go they were itching to share this story with as many audiences as they could. So they produced it themselves…not an easy task.
The play's author Christopher York was also born in Scarborough. Working on something that's set in their hometown, they felt so connected to the characters and the story. They also resonate with the struggles of the play. Yasmin (the central character of Build a Rocket) is defiant to triumph over adversity!
They want to take their bit of Scarborough to as many places as they can, the long-term aim is to have a production company on board so they can take a community production of Build a Rocket around Yorkshire and the UK. To achieve that aim, they need to get Build a Rocket on the map, get people seeing it, talking about it and excited about it. Where better than the biggest fringe festival in the world?
It is also a career-changing opportunity for them. Jordan graduated in October 2022 as a director and having a production up in Edinburgh in the first year of graduating would help his career go from strength to strength. Shannon has been acting since she graduated from Drama Studio London nine years ago but has never had the chance to perform a one-woman play, let alone one that is set in her hometown and lets her use her own voice. This would be an incredible opportunity for both of them.
What is the show about? Build a Rocket is a one-woman play following the defiant and inspiring story of Yasmin, a teenager from Scarborough whose life is not sandcastles, arcades, and donkey rides as she finds herself pregnant and alone in the world. The show follows her story for eighteen years until her son is coming of age. A unique and bold production, Build a Rocket tells an inspiring, whirlwind story while challenging commonly held perceptions of young motherhood.
Christopher York comments, "Teenage pregnancy is so demonized and we're quick to blame teenagers. There was a girl I was at school with who had a child at 15. I was astounded at her resilience and that she went on to pass her GCSEs, go to college and university, get married, and raise a wonderful human being. She is a phenomenal person. We are still conservative about these topics. If we were more open and Scandinavian about how we tackled sex and sexual health, especially with young people, we may not have the statistics we do.
So far the project has been self-funded with anything Shannon and Jordan could scrape together, which hasn't been much. All their set/costumes/props have come from charity shops or have been gifted to them or they have painted/created.
Money raised through fund raising will be used for:
Venue Fees, Festival Registration Fees, Brochure fees, Advertising and Marketing,
Accommodation, Travel, PRS License, Accessibility, Per Diems (basically, a posh way of saying money for the day, so we can eat whilst there!)
They currently won't be taking a fee. If they get to the fringe and happen to make any profit on the tickets they will split that equally but they are not in this for the money, it's pure passion that is fuelling their drive to get to Edinburgh and beyond.
So let's help these valued members of our club realise their dream, really get behind them and chip in as much as we can.
The GoFundMe link can be found below.
Chris Hare
Total Page Visits: 1785 - Today Page Visits: 2