The Club for Acts and Actors
Fully refurbished in 2019 this unique club with it's equally unique history moves into the future!
Founded in 1897 as the Concert Artistes' Association to help concert artistes experiencing hardship, the CAA is today a thriving private members' club for entertainment professionals.
We are situated in the heart of London's theatre-land. The club offers an ideal location to meet for a drink, a meal or a chat.
The atmosphere is a relaxed and friendly one. Weekly concerts by members are a regular feature of club life with regular social events throughout the year. The club is a frequent venue for rehearsals, auditions and workshops, providing a constant hum of activity throughout the week.
The CAA is proud of its heritage and warm welcome to performers and entertainers. Becoming a member is not about paying a subscription; it is about joining fellow performers, enjoying good company and comradeship. These are the core values of the Club for Acts and Actors.
Nor have we lost touch with our founding purpose. In addition to fostering friendships and professional advice, our Benevolent Fund continues to give practical and confidential support to members in need.
Club open Monday to Friday 12 noon to last orders 11.10pm.
Great range of food served 12 noon to last food orders at 6.30pm. See the Current Menu Here!
Latest News, Articles & Notices
A personal message from our president Anita Dobson…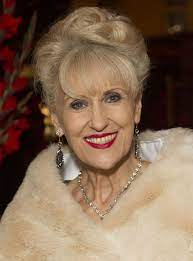 Hi Gang, you wonderful members of our Fabulous Club. It has been a long hard time for us all since Covid struck and our lives were turned upside down. 
It's now time for us to reclaim our world and try to embrace life again and that means gently and lovingly meeting our friends and loved ones in a safe way.
I have missed our get-togethers and am hoping to see you all in the not too distant future.  We have lost some members, but we will remember them and raise a glass in their memory.  Life is tough, but CAA members are made of strong stuff and the Club will survive. 
We will keep our traditions and love of life alive.  Showbusiness is the link that binds us and the Show must… and WILL  go on.
See you soon and stay strong and healthy till then, lotsa love your adoring President.
Anita  xxxxxx
It is with great sadness!
A number of members and precious friends have passed away during the current crisis either directly or indirectly as a result of this crisis. Some might have been of other causes but are nonetheless also listed here in our post "The Final Curtain."
CAA patron BARRY CRYER on stage at the Club
Chairman's Newsletter August 2021…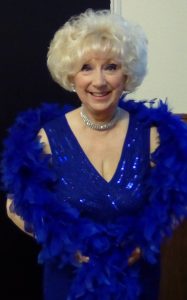 Dear Members,
I hope you have survived the past long Covid months during lockdown. It has been a dreadful time for everyone and sadly we have lost many members since March 2020, not just through Covid but other illnesses as well! Please note that we will be having a special Tribute Evening at the Club on Monday 27th September from 7.45pm to share our memories of them. More later.
The Committee have agreed to fully open the Club from 1st September, Monday to Friday, 12 noon to last orders 11.10pm. Please note that we will only be taking card payments behind the bar for the foreseeable future. (Everything is still dependable on Government Guidelines.) Read more (public version)…
Please note… a fuller version of this newsletter is also available in the "Private Member's section." Please click on that section and register.
NEW website page!
Our latest of three NEW Top Level web pages for 2021 "Menu & Catering" is for Peter's 'Backstage Bites' (promoted from a "news post") and can NOW always be found under the "Facilities" tab on the main top menu or via the "Navigation" panel.
Help for self employed members!
FURTHER URGENT UPDATE from YOUR CHAIRMAN! Regarding Self Employed members,
In these unprecedented times I hope the Club can come to your rescue in some small way. Read more…
Office Telephone : 020 7836 3172
Total Page Visits: 107342 - Today Page Visits: 26