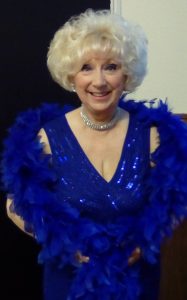 Hello everyone. I hope you are enjoying the gorgeous weather!
I am honoured that the Committee have elected me your Chairman once again. You know that I will work 100% plus for you, the members and the club as a whole. I joined this wonderful club in 1979 when I was 'starting out' in showbusiness, so you realise why it means so much to me!
We're having another good year. The new tenants on the 4th floor are happily settled in and have added BT fibre, which we will be able to use once we are technically re-organised. This re-organisation is happening too slowly for us. We are awaiting Raffingers report on exactly everything that we need. Then we can put things into motion! We have chosen three architects to come and view the Hall/Kitchen Reception area etc, with a view to total refurbishment of areas in the hope of installing a viable lift up to the bar. Many of you who have difficulty with mobility are now taking advantage of the taxi rides we are offering you. Please contact me if you require one.
Some of you have been asking about opening on Saturday, as you are in town shopping or at a show and it would be nice to pop into the club on an evening to have a drink. So, we are going to experiment with opening on the LAST Saturday of every month from 5pm to 11.30pm. Starting from Saturday 29th September. This will be expensive in wages etc, so we will ask for a £5 admission donation from each guest as we have great value drinks in the bar. (Members are obviously free as usual.)
Thank you for your support at our Social Functions. We have some great ones coming up and we hope to have a couple of afternoon ones in the September to December season. So, look out for those on the notice board and web site. I will also phone around our 'regulars' if anything 'comes up.'
Have a wonderful summer break, a successful autumn season and keep smiling!!
Much love to you all.
Kay (Your Chairman)
P.S. I am thrilled to tell you that we now have "THE CAA ROOM" at Brinsworth House, The Royal Variety Charity Home in Twickenham. Many of our members go there for respite and indeed we have one member at the moment who is a permanent resident. So thank you all at the AGM for agreeing to our donation for this new en suite room. We will also help with its maintenance. It is a lovely large room on the first floor, overlooking a beautiful Lilac tree. We took the money for the room from our Samaritan Fund because it is for the benefit of ALL of our members.
Thank you all, once again – Much Love, Kay xxx
Total Page Visits: 7504 - Today Page Visits: 1