NEWS FROM THE CHAIRMAN KAY CARMAN – JULY 2020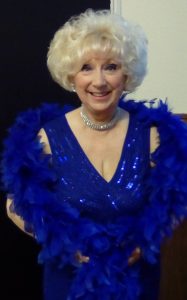 The committee had a 'virtual' meeting on Thursday 9th July to discuss the reopening of the club.
It was decided to have a 'deep clean' throughout and the air conditioning fully serviced. Judith is arranging PPE, hand sanitising dispensers, perspex screens etc to enable us to create a safe environment.
Two or three Committee members will come in during August to sort out social distancing seating and tables in the Bar and Concert Hall areas using the small red cabaret tables. Malcolm will help sort out the bar regarding stock etc. Our new caterer Peter will also be on board.
Our aim is to reopen slowly but surely in early September. This all depends of course on Government directives and monitoring the overall situation. So we have to be flexible and cannot open fully for a while. We will gauge our member's response and take it from there.
We want to be ready to respond to the ever changing situation and be fully prepared as much as we can be to open in early September, at least for a drink and some food and to be able to meet up safely with our friends again. Exact timings will be known at a later date – thank you for your wonderful patience and understanding.
Unfortunately we have inevitably lost some of our members during the lockdown. We will celebrate all their lives when we are back at the club. Our most recent passing is stalwart 'C' Member Tony Davey.
Tony contributed so much to our club! He, with his lovely wife Betty came to every function and brought their friends as well. He was (quite literally) a giant among men. Tony and Betty graciously gave us use of their house and grounds for our 100th Birthday Garden Party on 6th July 1997 – our Centenary Year! We can never thank them enough for that! RIP Tony; all our love and thanks to you along with our love and support to Betty and the family. We are here for you.
'A' Members remember that the Benevolent Fund is there to help you in these difficult financial times, so please contact Barbara Daniels for information. Any other members can apply for help from the Samaritan Fund – please contact myself or Malcolm for information.
These are strange, awful times but dear members please try to keep smiling and please stay safe! You have the member's book so contact any of us if you wish to talk.
Love from Kay x
Total Page Visits: 3099 - Today Page Visits: 1