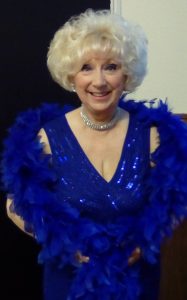 The AGM in March 2019 was well attended, the main topic being the club refurbishment. At the end of a long discussion, Bryan Naylor said that we must spend 'whatever it takes.' So, thank you Bryan for that because we practically have a brand new club now. 
We spent more than our original budget but we did so in full knowledge of the implications and we had a Cost Consultant on hand all the time! We are still very healthy financially and we did not have to borrow any money as all expenditure was within our means. 
It is a new era for the club now and we move forward positively. I am very proud and honoured to have 'spear headed' the project. It was a long seven months dealing with all the aspects involved and I have certainly learned a huge amount!
I thank the committee for their support and Deputy Chairman Jonathan Brosnan for his full support during the year. But in particular, Ron Wallace who over the years has sorted out the maintenance of our club and saved us a lot of money. This year he kept an eye on the builder's progress! 
Also Chris Hare, who has been a huge support and always been POSITIVE with me about the work. They both came to as many fortnightly site meetings as they could. 
Judith Quiney has worked tirelessly for the Club. Packing all the boxes and everything ready for the storage units in May and reorganising BT accounts, so that we could continue in a temporary office on the fifth floor from July. 
Judith also was a great help with ordering new furniture, fixture and fittings and then, when we came back in the refurbished building in November, helping unpacking boxes and sorting out the new IT issues in the office and card machines and picking up snagging issues. She has been invaluable, giving so much of her time to the Club. 
Grateful thanks to Malcolm our Secretary, who handles the Office and Val, his assistant, who have coped with the office upheavals since we moved back in. Malcolm has had to come in very early some mornings for workmen and deliveries. They hardly ever have a sick day off! 
Thanks to Liam, our hard working stage manager and the guys who set out the chairs. Malcolm, our doorman, has had a knee operation and expects to be back in March. Also our bar staff, who cope with every eventuality with a smile. 
As we settle into our new club, there are still a couple of snagging issues such as extra stage curtains and photos back on the wall. Sally and her team have continued to supply popular meals but the committee, as part of good practice in a new era, have put the brand new kitchen up for tender. Sadly, Sally has decided to leave. 
We have had a good response from individuals and firms to take over the franchise. Interviews have already been conducted. Unfortunately, the 4th floor office firm went into liquidation and the 3rd floor firm have been having financial difficulties, but we have recouped most of the money they owe us. It is ongoing. 
So, we are looking for new tenants. We thank the Trustees of our Benevolent Fund who work quietly and confidentially helping our 'A' members. If anyone knows of members in need please contact them. Also the Samaritan Fund is there to help other members. Please contact the Committee. 
Our social functions continue to sell out! Our hall capacity is slightly reduced due to an extended stage area and our sound and lighting desk now being situated at the rear of the hall. 
The Committee has decided to TRY OUT opening every SATURDAY EVENING from April from 5pm until last orders at 11.15pm. Sadly, we have lost quite a few members this year but, since January, we have brought in new members who have been on the waiting list for quite a while. 
I have really enjoyed this year as your Chairman and I thank you for your wonderful support and your patience during all of the closure. We have a great new Club! Onwards and Upwards! My love to you all.
KAY CARMAN
Total Page Visits: 2737 - Today Page Visits: 1