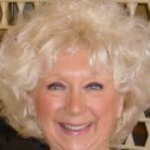 Hello Everyone
Hope you had a good summer! Working or relaxing!
During the 3-week closure, our workmen have been very busy, completely gutting the Ladies Toilets and Dressing Room and the Gentlemen's Dressing Room. Thus, giving us a whole bright new "look". Very theatrical!! (I wanted us to have theatre styled Dressing Rooms!) All expensive but worth it!! I hope you agree. My special thanks to Deputy Chair, Judith Quiney for all her help and Ron and Malcolm.
The German firm who were tenants in the 4th floor office suite unfortunately left us earlier this year. This gave us the opportunity to refurbish that area in the hope that we can attract a new tenant in this competitive market. Our Property agent has had viewings from prospective firms but so far, no letting of the space.
Another of the new Social Events for this year, the play reading of "Separate Tables", in August, was a huge success. Thanks to our member Hugh Futcher. I bought 4 small red tables to use that night and they looked so good we have bought another eight to use on Jazz and Cabaret evenings to give the hall a new, intimate look.
The Annual Ball will take place on Sunday March 18th. Once again at the Royal Garden Hotel, Kensington High Street. Sparkling reception at 5.00 p.m. Dinner at 6.00 p.m. and Carriages at 11.15 p.m. We have a wonderful Cabaret, Dancing to a live band and Disco section. A truly fun, happy evening. So why not bring your friends and book a whole table. Members £60, Guests £70.
The Website is up and running now so take a look at it at www.thecaa.org If you have any news then let us know and we can have a rolling page for members news. All the contact details are on there. Our thanks to Paul Scudder for setting it up and Chris Hare for editing.
Just a reminder about the Taxi rides on offer to our less mobile members who want to visit the club. 3 or 4 of you have already made use of it. So, don't be shy! We would love to see you back at the club. You have all contributed so much over the years. Just contact myself or Malcolm. Also, if you know of any member who may need help or care please let any of the Committee know, because we have the Samaritan and Benevolent funds to help you. Sadly, we have lost 4 of our long-standing members recently. 50 years some of them have been 'A' performing members. We are looking at ways to help, so watch this space!
I cannot believe it but Christmas season will soon be upon us, when many of our members are appearing in Pantomimes, Christmas Shows, Plays, Concerts and Cabarets. Also, our members who are technical and Front of House staff. We are all 'cogs' in the huge wheel of Showbusiness. We will also be distributing our Christmas Hampers in December. Hoping to surprise and brighten up some of our members.I wish all of you a very Happy and Successful Festive Season.
Love Kay x
C.A.A. ANNUAL BALL
SUNDAY 18TH MARCH 2018
5.00 p.m. Sparkling Reception for 6.00 p.m. Dinner
THE CAA EVENT FOR THE YEAR 2018
ROYAL GARDEN HOTEL, KENSINGTON.
Special Cabaret, Band and wonderful food.
MEMBERS £60.00, GUESTS £70.00
TICKETS AVAILABLE FROM CAA OFFICE.
Don't leave it too long to book. It is going to be a great evening.
NOMINATIONS FOR GENERAL COMMITTEE 2018/2019
If you would like to serve on the General Committee for the year 2018/2019 and have paid two full years' subscriptions, please collect a Nomination Form from the office. Completed forms must be signed by a proposer and seconder and returned before 1st February 2018. To be eligible for election, nominees must have paid their subscription for 2018. Nominees are invited to write a brief statement (50 words maximum) in support of their nomination for Committee and these must be sent to the office at the same time as the Nomination Forms in order to get them printed in time to go out with the AGM papers at the beginning of March.
The following members have "taken their final curtain" since the last Newsletter. They are: –
John Dalby 'A' July
Yvonne Bouffler 'A' July
Audrey Maye 'A' September
Joy Francois 'A' September
Marty Swift 'A' July
Avril Ellis 'A' August
Johnny Maxim 'A' July
CHRISTMAS CLOSING & OPENING DATES
The club will close for Christmas after trading on Thursday 21st December 2017 Re-Opening after the festivities on Wednesday3rd January 2018
Put the dates in your diary, so as not to be disappointed
STOP PRESS – FORTHCOMING CAA EVENT
FRIDAY 20TH APRIL 2018 – "A NIGHT WITH THE STARS"
Come along and remember your favourite stars, Doris Day, Judy Garland, Mario Lanza, Marlene Dietrich, Frank Sinatra, Gracie Fields, Matt Monroe,Howard Keel, Deanna Durbin, Elvis Presley and many more.Sing along, dance along and enjoy a nostalgic night
3 Course Meal – 7.00 for 7.15 p.m. – Members: £20, Guests: £23
SUBSCRIPTIONS, CHRISTMAS DRAW, 100 CLUB,CHRISTMAS CARDS ETC.
Please make all cheques payable to "The Concert Artistes' Association". You may pay your subscription and Christmas Draw on the same cheque but please write separate cheques for the 100 Club, Annual Ball and all other payments.
Please do not staple cheques to forms or send post-dated cheques.
We would prefer monies to be sent as there is less risk of them being unrecorded, but, if you really cannot trust the post, please come and see us before the office closes at 5-00 p.m. Please do not bring your money in loose. Always put it in a clearly labelled envelope (a recycled one will suffice) together with the relevant form or slip carefully completed. Then, if you arrive out of office hours, you can post ready prepared envelopes through the office letterbox to be dealt with the following morning.
NEWS OF MEMBERS
Kay Carman – is appearing in "Down Memory Lane" Queen's Theatre Foyer Show on Wednesday 1st November at 2.30 p.m. and in Mickie Driver's Christmas Party Show at Westcliff-on-Sea and Wood Green from Monday 20th November until Friday 15th December. Also, the January Music Hall Show at the Queen's Theatre Hornchurch.
Valerie Leon – "Upfront with Valerie Leon" will be at Live at Zedal, 20 Sherwood Street, Soho on Thursday 9th November at 7.00 p.m. With the help of little more than a magnum of champagne, Valerie takes you through her life both on and off the screen.
Martin Milnes – in June appeared at "West End Live" with his musical partner Dominic Ferris. Martin & Dominic went on to appear at the Lincoln Centre Rose Theatre in New York on 17th October.
Martin Wimbush – Martin has just finished appearing in his one-man show "A Meeting of Minds" at the Canterbury Festival with further venues to be considered.
CHRISTMAS DRAW
Our Christmas draw raises funds for the Club and gives you, the members, the chance of winning extra goodies for Christmas. At only £1 a ticket or £5 for the book of tickets, you have a good chance of winning our first prize of £300 in cash, or other desirable treats and gifts.
MONDAY 18TH DECEMBER 2017
1st Prize: £300 cash
2nd Prize: £150 cash
3rd Prize: £100 of Theatre Vouchers
4th Prize: £50 of Marks & Spencer Vouchers
Plus 50 other prizes of wines, spirits, gifts etc.
One book containing 5 tickets is enclosed with your Newsletter and extra books are available from the office. Please send counterfoils and cheques made payable to the Concert Artistes' Association (which can include your subscription) to arrive by 6.00 p.m. on the 18th December 2017.
VAL PETT
Total Page Visits: 4138 - Today Page Visits: 3