Please note…a fuller version of this newsletter is available in the Private Member's section. Please click on that section and register.
Dear Members,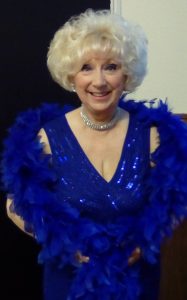 I hope you have survived the past long Covid months during lockdown. It has been a dreadful time for everyone and sadly we have lost many members since March 2020, not just through Covid but other illnesses as well! Please note that we will be having a special Tribute Evening at the Club on Monday 27th September from 7.30pm to share our memories of them. More later.
The Committee have agreed to fully open the Club from 1st September, Monday to Friday, 12 noon to last orders 11.10pm. Please note that we will only be taking card payments behind the bar for the foreseeable future. (Everything is still dependable on Government Guidelines.)
Monday night shows will be slightly different but will commence with a special 'Welcome Back' show on Monday 20th September at 8pm. Then, as mentioned, on Monday 27th September we will have a Tribute Evening to celebrate the lives and careers of all our members who have passed away during this Covid dominated period. If you would like to say a few words about anyone that evening, please contact me and I will give you a time slot. The evening will be interspersed with music that was relevant to these passed members.   A list of the deceased members is available in the Final Curtain section of the web site or at the office.
These first two Monday evenings may be well attended so you should book your seat in advance, either from myself on 07768 126994 or via Malcolm in the office. Also book with us if you require a meal in the hall beforehand, last orders on these two evenings will be 6.30pm. Booking is only required for these first two Mondays. Monday shows from October onwards will be as in the past.
From September 1st, Peter Cliffe, our new caterer is launching a new full menu served daily from 12 noon until 7pm. Please look at Backstage Bites on the site for details of this lovely menu.
Our 'C' Member, Frank Butler, is kindly taking over from Ron Wallace to organise the CAA Ex Serviceman's Dinner on November 12th assisted by our 'A' Member Teddy Farnham. Look out for further details on the Club noticeboard and this web site.
Keep checking this website for immediate updates. The Committee have agreed to add a new performance or 'gig 'guide to the site like we used to print in our old newsletters. We also now have a private 'Member's Only' section on the web site. Please register. In time you will be able to pay your subs and book for events thought this Private Section. There is also a fuller version of this newsletter to view in the private section. So please complete the easy registration and password process. Just click on Member's Only Area and go from there!
There are two Jazz Nights booked for the autumn. Friday 29th October: the wonderful Helen Theophanus Quintet present 'The Look of Love,' a celebration of the music of Burt Bacharach and his Latin American influences. On Friday 26th November a jazzy mix entitled 'Basie to the Beatles and Beyond' with the multi award winning Sarah Bolter Quintet. Ticket prices are £20 for members (£22 guests) which includes light refreshments.
We are arranging new ways to book and pay. At the club on Monday evenings and through the web site. We will also have new card facilities and will also accept old fashioned cheques and cash!
I am very optimistic for us! 'Always look on the bright side of life!'
The CAA will be 125 years old in 2022. So let's make it a truly CELEBRATORY YEAR!!
My Love and Thanks to you all,
Kay Carman (CAA Chair)
Total Page Visits: 3103 - Today Page Visits: 2